It's that time of the year again when fans eagerly wait for the release of the lineup for the 2016 installation of the annual AD-LIVE Project.  One year ago, the announcement of the lineup for AD-LIVE Project 2015 saw much excitement, and this time it's no different. After much anticipation, the guest performers for AD-LIVE Project 2016 have finally been revealed over a live-stream on Nico-Nico Douga!
Here's who we can expect to see this year.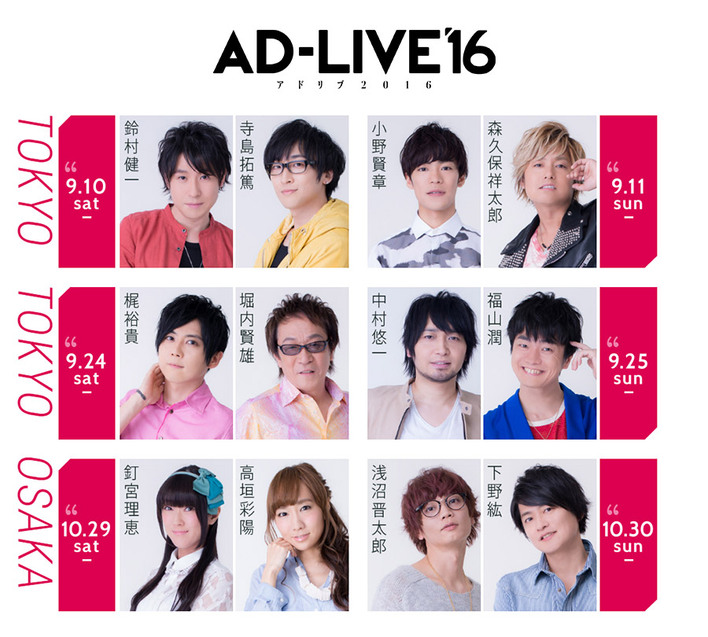 The cast this year will see twelve artistes perform over a span of six days in September and October 2016 – two per day. Half of the artistes will be returning from last year's lineup, while new faces will make up the remaining half of the performers.
10th September: Kenichi Suzumura and Takuma Terashima
AD-LIVE producer Kenichi Suzumura himself will return to perform on the 10th of September  at the Olympus Hall, Hajiochi, alongside new face Takuma Terashima, a fellow seiyuu-singer who has performed with Suzumura before for the Original Entertainment Paradise (OrePara) live concerts. Terashima is known for his many roles, including Apollo, the main protagonist of Genesis of Aquarion, Ittoki Otoya from the Uta no Prince-sama series, Togusa Saburou from Durarara!! and more. He is also fairly accomplished as a singer, with two albums and five singles to his name. His fifth and most recent single, "0+1", was released just last month on the 11th of May, 2016, and he is set to release his next single "sunlight avenue" on the 17th of August, 2016, less than a month before he will take the stage for AD-LIVE.
11th September: Kensho Ono and Showtaro Morikubo
Kensho Ono is certainly an up-and-coming face in the music and voice-acting world. Debuting just two years ago in 2014 as a solo musician, his third and most recent single "STORY" was released on the 27th of January, 2016 while his second and most recent album "COLORS" was released on the 23rd of March, 2016. He is also taking on the live stage with his role as Kuroko in the Kuroko no Basket Musical that ran earlier this year. He will be returning to perform this year again on the 11th of September also at the Olympus Hall, Hajiochi, alongside the highly talented musician and seiyuu Showtaro Morikubo, whom we have recommended to readers as one of ten voice actors whose music anyone should consider giving a listen to. Many of his singles have been used as the opening and ending themes to the Rockman video game franchise (the Japanese name for Mega Man), and his discography dates back all the way till 2001. Together with fellow AD-LIVE performers Terashima and Suzumura as well as seiyuu Daisuke Ono, Morikubo is also part of Original Entertainment Paradise (OrePara).
24th September: Yuki Kaji and Kenyu Horiuchi
A two-time winner of the Best Voice Actor award, Yuki Kaji will be returning to perform for AD-LIVE on the 24th of September at the Katsushika Symphony Hills alongside veteran seiyuu Kenyu Horiuchi. With over thirty years of experience in voice acting (his first roles were as Taki Hajime and El Cid Pierre from Captain Tsubasa in 1983), the 58-year old Shizuoka-born seiyuu has started in hundreds of roles and even has his own voice acting production office, Kenyu Office. He reputedly enjoys singing as well – and the audience will get to witness his singing live at AD-LIVE this fall!
25th September: Jun Fukuyama and Nakamura Yuuichi
Remember Lelouch Lamperouge? Last year was definitely not the last time the voice actor behind the Code Geass main protagonist will be featured at AD-LIVE: Jun Fukuyama will be returning this year again to perform alongside fellow seiyuu Nakamura Yuuichi, who is best known for his roles as Gray Fullbuster from the Fairy Tail series, Tomoya Okazaki from Clannad, Alto Saotome from Macross Frontier, and just last year, Ultraman X. The two voice actors will take the stage on the 25th of September, also at the Katsushika Symphony Hills.
29th October: Rie Kugimiya and Ayahi Takagaki
The iconic "Queen of Tsundere" voice actress will be performing alongside voice actor, singer and Sphere unit member Ayahi Takagaki on the 29th of October in Mielparque Osaka. Already an impressive seiyuu known for playing a wide variety of characters, Takagaki's music is just as impressive: we have also recommended that readers consider listening to her works as they showcase the full extent of her ability as a performer. Takagaki is trained in operatic singing and has even incorporated traditional Japanese influences into some of her songs, and on top of that, she has covered many well-known English language songs as part of her discography before.
30th October: Hiro Shimono and Shintaro Asanuma
Returning from last year's AD-LIVE cast, Hiro Shimono is a familiar name from many anime series such as Kuroko's Basketball and D.Gray-Man, and he will be performing alongside scriptwriter, director and seiyuu Shintaro Asanuma on the 30th of October in Mielparque Osaka, the final day of AD-LIVE 2016. Asanuma is known for voicing various characters such as Kuramochi Youichi from Ace of Diamond, Nishiki Nishio from Tokyo Ghoul √A and Maeda Toshiie from Nobunaga Concerto.
AD-LIVE Project 2016 is shaping up to be an interesting one this year that fans should not miss, and indeed, there's more good news on this count: it will be receiving an international and national live-viewing! Fans not just in Japan, but in Hong Kong and Taiwan as well can look forward to purchasing their tickets to catch AD-LIVE this fall and treat themselves to performances by a star-studded cast of seasoned and rookie seiyuus alike.
More information on the event can be found on the official website here.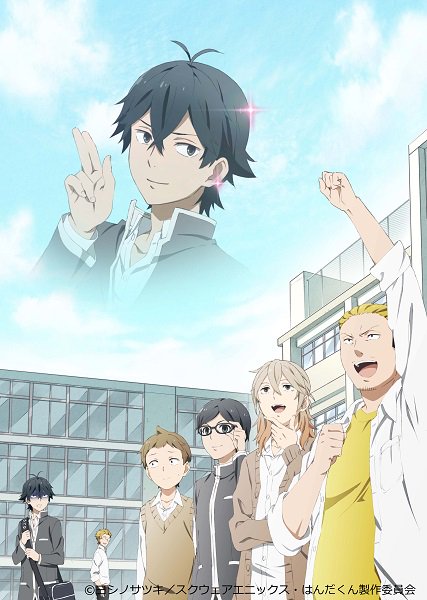 In other news, this isn't the only big thing that was announced today by AD-LIVE producer and prolific singer-songwriter Kenichi Suzumura: a new single is in the works too! Suzumura will be singing the ending theme for Handa-kun, a spinoff of the Barakamon anime series. Titled "HIDE-AND-SEEK", the song will be released as part of Suzumura's 13th single and will be out on the 31st of August, 2016. Fans of Suzumura can also look forward to an international live-viewing of his upcoming MANTEN LIVE 2016 concert later this month.
Sources: AD-LIVE official website, Nico-Nico Douga