Some of us might remember that the Battle Spirits franchise was quite a thing a few years back. This trading card game (TCG) will see its eighth year of distribution later this year in September, with the game having first debuted in 2008 in Japan. In fact, an English version was printed subsequently in 2009, before being discontinued abruptly after only five expansion sets.
Players in Singapore and Malaysia, fret not, because Bandai Carddass South East Asia's official Facebook page has revealed that the Battle Spirits trading card game will be officially distributed again in your countries! The first booster pack BS35 "12 Shinno Hen Volume 1" and starter decks SD33 "12 Shinno Korin" and SD34 "Imagine Shurai" will be released towards the end of this month on the 29th of April, 2016, and will be timed in conjunction with the latest season of the anime adaptation Battle Spirits Double Drive, which in turn commenced its shows on the 6th of April just last week. Viewers may be interested to know that Battle Spirits Double Drive also happens to be one of the few anime series based off a trading card game that utilizes full computer-generated imagery (CGI) to animate its battle scenes.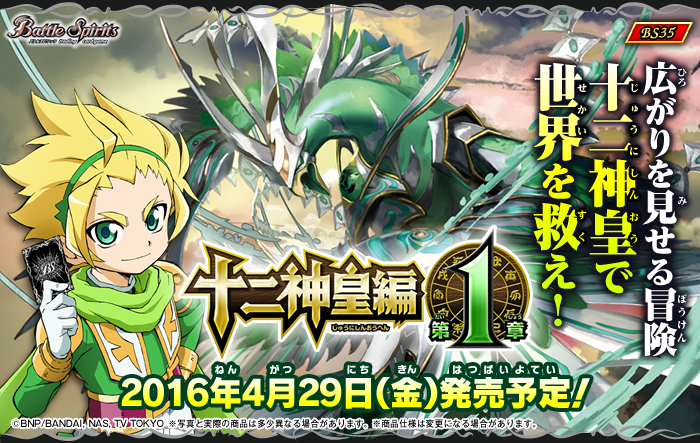 This is not the first time a trading card game has been discontinued only to be "revived" and distributed again to overseas markets after a period of hiatus. The wildly popular Duel Masters trading card game, which released its latest set this year in March, first saw its debut in May 2002 with the series becoming Japan's best-selling TCG. Wizards of the Coast in turn began releasing English version booster sets of the game for the international market in 2004, before discontinuing it just two years later. The continued popularity of the Japanese version however, not unlike that for Battle Spirits, prompted Wizards to attempt to revive the game under a similar, though unrelated, new franchise in 2012.
Above: Colored tokens known as Cores (depicted top) are used in the mana system of Battle Spirits, similar to the Land (depicted bottom) cards in Magic: The Gathering.
For TCG players who may be interested, the gameplay of Battle Spirits adopts a similar approach to the mana system as the Land cards in Magic: The Gathering, with tokens called "Cores" being used to summon Spirits, cast Spells, and perform an assorted range of other gameplay effects. Bandai Carddass South East Asia's Facebook page has also very kindly provided a list of the retailers in the two countries where Battle Spirits decks and booster packs will be sold at. The three outlets in Singapore are located in Ang Mo Kio, Choa Chu Kang, and Plaza Singapura respectively, while two outlets in Petaling Jaya and Kuala Lumpur each and one outlet in Ipoh make up the five stores in total serving Malaysian players.
Source: Bandai Carddass South East Asia Official Facebook Page, pages on Battle Spirits Wiki about BS35 expansion set and Battle Spirits Double Drive anime season