Fans of Suzuki Tatsuhisa (affectionately referred to as Tatsun), get ready for some exciting news! The lead vocalist of the highly popular rock band OLDCODEX will be debuting as an actor with his first role to feature in the live action movie Library Wars – The Last Mission.
Tatsuhisa has had a fairly illustrious career as a singer and voice-actor, and this role will be his first brush with live-action acting. Some may be familiar with the fact that Tatsuhisa was the voice behind one of the main characters Hikaru Tezuka from the original anime version of Library Wars. With his return to the Library Wars movie cast, his original role will be filled up by Sota Fukushi, while Chiaki Kuriyama will play Asako Shibasaki, formerly voiced by Miyuki Sawashiro in the anime. Tatsuhisa will play a minor role alongside both characters. Tatsuhisa was "genuinely surprised" on being offered a live-action role, admitting that he is naturally nervous for his first acting role; nevertheless, he looks forward to the challenge of acting and hopes that viewers will enjoy the movie.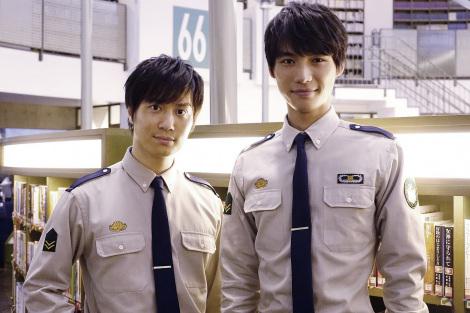 Library Wars (Toshokan Senso) was originally adapted from a four-part light novel series authored by Hiro Arikawa, whose other works include Jieitai Sanbusaku (The SDF Trilogy) which covers the ground, air and maritime forces of the Japan Self-Defense Forces (JSDF), as well as Hankyu Densha and Sweet Blue Age. Using the Statement of Intellectual Freedom in Libraries enacted in Japan in 1954 as inspiration, the plot centres around a fictional Media Betterment Act (MBA) passed by the Japanese government in 1989 expanding media censorship powers, in turn angering local governments against the Act who responded by creating the Library Team Defense Force along the principles of the Statement. The movie, titled Library Wars – The Last Mission, is the second live-action movie in the series to be released, and will premiere in Japan on the 10th of October this year – exactly two months from now.
(Author's note: The featured image originates from the first movie in the series. Tatsuhisa will be debuting in the second movie.)
Source: https://twitter.com/oricon/status/630578074304688130/photo/1