This week, two new Rider Forms have been revealed for Kamen Rider/Armoured Rider Duke and Kamen Rider/Armoured Rider Knuckle, as well as 2 new Lockseeds.  Gaim Gaiden 2 will focus on Duke (Sengoku Ryoma) and Knuckle (Zack) and will take place before the series (Duke portion) and after the series (Knuckle portion).
The Duke portion will focus on the friendship between Duke and Zangetsu (Takatora) and how Duke ultimately becomes the head of Yggdrasil's Research as well as  the creation of the Genesis Drivers. 
Duke will be getting a Sengoku Driver Form in Lemon Arms ( A downgrade from his regular Lemon Energy Arms)

The Knuckle portion will focus on the future of Team Baron, after leaving Zawame City for the States only for exiled member Shura to take over Team Baron and reforming it into Team Neo Baron. Now Zack must return to Zawame City to set things right.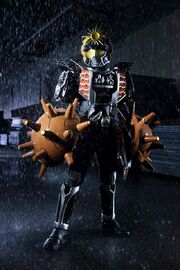 Knuckle will gain a Jimba Form as well as an Energy Lockseed to be used. He will use his Kurumi Lockseed as well as the newly gained Mallon Energy Lockseed to transform into Kamen Rider/Armoured Rider Knuckle Kurumi Arms Jinba Mallon. 
All image credits to Toei
~Cal