Idol anime, ranging from Love Live! to Wake Up Girls! have proven to be all the rage lately, spewing a series of live appearances, merchandise and even theatrical movie releases! However, it is impossible to ignore the presence of a fictional idol franchise that is catered towards the opposing sex. Enter Uta no Prince-Sama. (Abbreviated as UtaPri)
It originally started off as an otome game and soon enough, it spawned its own anime adaptation, a slew of music CDs related to the franchise and even its own store at Harajuku! For today, we will be reviewing all four CDs released under the Cross Unit Idol Songs series and as such, we will not be reviewing the senpai/QUARTET NIGHT's songs as our main focus will be on STARISH. 
To give a brief introduction to STARISH, it is a fictional boyband that comprises of seven bishounen members, each voiced by a renowned seiyuu. Together with Haruka Nanami, the heroine of the franchise, they serve at the protagonists of the series and each episode of the anime shows them progressing through various personal obstacles and their interactions with each other as friends. The members are Tokiya Ichinose, Masato Hijirikawa, Ren Jinguji, Otoya Ittoki, Syo Kurusu, Natsuki Shinomiya and Aijima Cecil.
To give a rough idea of the popularity of the UtaPri franchise, the total sales for CDs related to the franchise, be it idol songs, drama CDs and shuffle unit songs have surpassed 1.2million copies in 2011 alone. Furthermore, three of the franchise's CDs have reached the top of the Oricon Daily Charts (One individual idol song and two unit songs). The ticket lottery for the franchise's annual concerts are also notoriously difficult to win to the extent that each person can only apply for one ticket per account.
With the third batch of idol songs having been fully released, do they come close to the wonderful songs that seasons 1 and seasons 2 have to offer? Will they make for epic performances during Uta no Prince-sama LOVE LIVE 5th STAGE at Saitama Super Arena? Read on to find out more!
EMOTIONAL LIFE by Natsuki and Otoya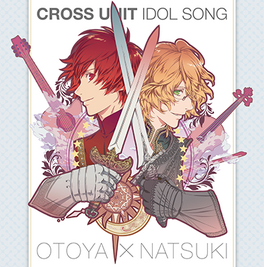 Seiyuus Kisho Taniyama(Natsuki) and Takuma Terashima(Otoya) are both regulars in the music industry and both seiyuu are formidable lyricists, writing all the lyrics to their solo songs and singers in their own right. Taniyama himself is also regarded by many to be the best singer in the entire cast of UtaPri. However, in their solo discography, they both sing in completely different styles of music with Taniyama taking on hard rock and sometimes even metal as the vocalist of GRANRODEO while Terashima's solo music career takes on a more electronic backed style.
The song starts out with some medieval strings and then it goes into flat-out rock, fitting of the rock musical theme that was mentioned in the anime! The song had wonderful instrumentals and both Taniyama and Terashima can harmonise with each other rather well, considering the completely different vocal qualities each possess.  However, this author has always felt that Terashima's songs as Otoya hardly do justice to his voice and this opinion is reinforced in this song. When they are not singing in tandem during the chorus, Taniyama's powerful voice overpowers Terashima's which can become underwhelming for fans hoping to hear more of Otoya. Furthermore, the nasal voice that Terashima uses for Otoya does not seem to mesh well with the song. Perhaps if Terashima used his natural baritone voice instead of his higher-pitched Otoya voice in this song, it would have matched better. The bridge also felt rather messy overall and once again, the stark difference in their vocal styles as their characters made it even more jarring.
Overall, while the song has some killer instrumentals, it would have been further improved on the vocal side had Terashima been given the chance to sing in his regular singing voice. On Taniyama's part, the song is rather reminiscent of Can Do, one of his very own singles released under GRANRODEO. Perhaps it is the guitar riffs. Those interested in hearing Takuma Terashima's full vocal capabilities should give his latest album, PRISM, a listen!
 木漏れ日ダイヤモンド (Komorebi Diamond) by Otoya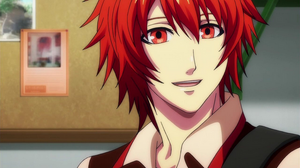 A slow paced song that starts off with gentle guitar riffs and pianos, it abruptly goes into Terashima's gentle singing voice – a stark difference from his usual songs as part of the UtaPri franchise. Interestingly, it is the closest one can get to hearing his actual voice. The song does feel overly generic though for character song fare but it does have a pleasant chorus, largely in due part to Terashima's alternative offering through his voice and the minimalist instruments. However, it may be rather underwhelming as concert material but we will wait and see how Terashima executes it.
The New World by Natsuki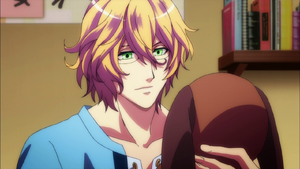 Like EMOTIONAL LIFE, it starts off with the character's iconic violin and then it immediately breaks into Taniyama's powerful vocals. His paradoxically gentle yet powerful vocals definitely stole the show in this song and in fact, it is a refreshing new offering after a slew of rock songs and power ballads. Not to mention, his whispering in some lines was absolutely appealing and his trademark vibrato complemented the dramatic strings! The calls of 'Checkmate' also makes this a potential crowd participation song during the concert. The ad-libs performed by Taniyama were also without a doubt, impressive and spine-tingling, hitting the high notes flawlessly. Definitely a must-listen for any fans of GRANRODEO or male seiyuu in general solely for the vocal acrobatics! (Although the instrumentals in this song were killer as well)
OVERALL VERDICT: For the first single in the Cross Unit series, the solo songs were much stronger than the titular song mainly because of the mismatch of vocals in the leading track. While Takuma Terashima is a decent singer in his own right, this author felt that he struggled to match up with Kishow Taniyama in the duet. Furthermore, the playing field itself was uneven for the solo songs in which the more epic instrumentals and grander song was reserved for Natsuki, giving him even more chances to show off his vocal capabilities. Perhaps for now, fans of Takuma Terashima may want to stick with his non-anime work to get the most out of his musical offerings.
CODE T.V.U by Cecil, Ren and Syo
This is indeed an extremely unique unit in that the three participating seiyuu, Junichi Suwabe, Kouske Toriumi and Hiro Shimono do not possess an individual singing career. Granted, Suwabe and Toriumi are part of a duo called Fero Men but it still stands that neither of them have solo singing careers although both are more than capable of doing so. Shimono on the other hand is regarded by many to be a little far behind the top vocalists in the STARISH unit. With an interesting combination of two great vocalists who are so accustomed to singing in tandem with each other and a seiyuu whose voice acting is more prized compared to his singing, this is set to be either a flop or a well-executed collision.
In the context of the anime, the song was composed at part of a commercial for a new smartphone brand. T.V.U stands for Try Vivid Union. The song begins with some intense bass and to its credit, the opening lines do make for a very catchy commercial tone! Surprisingly, all three singers are able to harmonise well and it may have worked much better compared to EMOTIONAL LIFE. Perhaps it's also in part due to Toriumi and Suwabe being able to harmonise with each other so well to begin with that they are able to mask over Shimono's screaming. Even then, Shimono himself gave a commendable performance. While he may not have the techniques of a singer, it is undeniable that he sings with much gusto and gives his songs that much needed punch. While Suwabe possesses a suave bass voice which may seemingly be too far a contrast with Toriumi's gentle, princely voice and Shimono's loud, commanding one, the instrumentals and composition actually managed to make the song listenable and something that won't get out of the fans' heads so easily.
To sum it up, CODE T.V.U works so well as both an insert song and a potential commercial song too and it is safe to say that the composers and arrangers definitely did not forget that it was made to be a CM song. However, the one thing that actually makes this song unique (the combination of totally different voices) may also be the one thing that might detract listeners from the song. Catchy and surprisingly well executed music-wise, how will the individual songs fare then?
Mellowx2 CHU by Ren

Suwabe's voice immediately opens the song with an ear worm in the form of 'mellow mellow'. This is without a doubt, a very catchy tune that surprisingly matches will with his suave voice. While it may be a letdown compared to his previous songs in the franchise such as Orange Rhapsody, it is this author's favourite tune from him. Furthermore, the insertion of the saxophone in the middle just screams 'Ren' and the many references to 'lady'. Granted, some may find the song to be extremely repetitive but the high energy nature of the piece would make it an excellent crowd participation song. Who knows? Maybe UtaPri 5th Stage might see Suwabe trying to dance this song out while swooning even more fangirls in the process!
すべてを歌にっ! (Subete o Uta ni!) by Syo

Perhaps it is just unfortunate placement for Hiro Shimono that he is put in a cast full of talented singers. Fans consider him to be the weakest singer in the cast although to this author, while he may not be able to hit the notes, he undeniably sings with so much fun and gusto that fans she can't help but jump along as well. It's almost like a guilty pleasure to some. This song starts off with his trademark enthusiasm. From the verses alone, it definitely sounded like crowd song material. The electronic backings though make it sound as though the song came straight out of Dance Dance Revolution which may put some listeners off. To sum it up, this song may be the most divisive one in the whole single as Shimono's singing may hinder one's enjoyment of the song alongside the DDR elements. The lyrics though are quite encouraging and he lets his emotional delivery in the song do the talking, making it a fun listen to those who can get past the lower standards of singing in the song. As such, like most of Syo's songs, it's either hit or miss, depending on the listener.
GREEN AMBITION by Cecil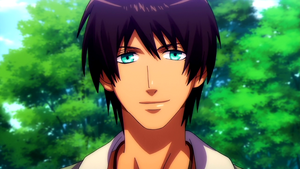 The synths and dramatic pipes that open the song seem to suggest a new route for Cecil. Toriumi lets his fans hear what the deeper end of his range can do and indeed, with a voice that is easy on the ears, it does make for an enjoyable listen. The song itself sounds though it escaped from a romantic fantasy anime though. The second verse was the most impressive to this author though as he lets his soft voice, almost like a whisper take over. Furthermore, his emotions were on point, singing with intense passion and gentleness. Perhaps it is the best track in the whole single as it brings something new to the table for both Cecil and Toriumi Kousuke. The combination of unique instrumentals, a lovely voice suited for a prince and well composed verses was what made this song stand out in the single.
OVERALL VERDICT: This single may very well be one of UtaPri's more divisive ones in which two out of four of the tracks may not suit everyone's palate. However, the leading song is very catchy and may even be a bit of an ear worm! While this author is happy to know that Suwabe and Toriumi did not take over the  leading song and transformed it into a FERO MEN song, allowing Shimono to catch on, Shimono's vocals are still a tad too weak to buy her over to his solo songs. However, the other two's solo songs, especially GREEN AMBITION, are worth listening to at least once as a show of their vocal flexibility. At least it did not show any clear biases towards a particular singer the way EMOTIONAL LIFE did so far that one reason alone, along with the fact that this leading track is stronger and more memorable, CODE T.V.U may have that slight edge.
ORIGINAL RESONANCE by Masato and Tokiya
Kenichi Suzumura and Mamoru Miyano both possess successful singing careers and are some of the most well known singing seiyuu as well, giving concerts annually and appearing in various Anisong festivals. Furthermore, after Kishow Taniyama, they are among the most gifted singers in STARISH. While Suzumura's music is largely pop-rock fare with a focus on ballads and possesses a lovely baritenor voice, Miyano is more focused on dance and pop along with his occasional rock songs and is the owner of a beautiful tenor voice. With two very promising singers, it is no surprise that this cross-unit is the most anticipated after the glorious piece that is Still Still Still by Natsuki and Tokiya. Will their offering impress or leave fans disappointed?
We are greeted by a gentle piano melody which is marked by intensity and an eventual build-up as it goes into the lower notes. The heavy beats of drums then brings the listeners to a song backed by electronic beats. Miyano's tenor voice then brings the listeners deeper into the song and this time round, unlike the other units, both singers were able to be on the same page and harmonise flawlessly as Suzumura's voice complements more than contrasts. For this author though, what took her by surprise is how both Suzumura and Miyano were able to tackle the high notes flawlessly during the chorus! In a sense, ORIGINAL RESONANCE worked as a unit song because both singers are at able to match up to each other in terms of singing ability and had the prowess to tackle the song to begin with. The song itself is also very memorable and helmed by two ethereal voices, it made for a very enticing listen. While it does sound reminiscent of something from Senki Zesshou Symphogear if one were to remove the romantic lyrics , ORIGINAL RESONANCE on its own is both powerful and gentle and is definitely worth a listen for fans of Anisong in general.
To conclude, composition team ELEMENTS GARDEN definitely saved the best for last, giving fans of the series and casual music listeners pure fanservice throughout with a song that lets listeners hear Miyano and Suzumura at their finest as they tackle the high notes and vibrato. Granted, some may say that both seiyuu already have the given cheat codes as both sing similar genres and are already on nearly equal levels of singing skill but when a song as awesome as this is released, perhaps we can put that unfairness aside. Without a doubt, the best cross unit song so far!
静炎ブレイブハート(Seien Brave Heart) by Masato

In this author's opinion, Masato always had the best songs in the UtaPri franchise although this may be a slightly biased opinion as Suzumura's has more opportunities to try out a wide range of genres for his character songs as Masato. However, fans have noted that as Masato, Suzumura uses a singing voice that is higher than expected for his songs (Knocking on the mind, Sanctuary) as the character possesses a deep voice. For Seien Brave Heart though, he uses a deeper tone than usual. The song has a very wonderful build-up at the beginning and throughout, the deep-rooted passion and energy is maintained. With various calls in the background such as 'blaze' and 'why not', the song makes for a very good concert piece. While it may not be as iconic as say, Koizakura or Knocking on the mind, Suzumura's vocals are still top-notch in this song as his vibrato and for using his lower register (which is a rarity even in his own discography), that alone makes this piece a worthy listen for fans of Masato and Suzumura who are not part of the UtaPri fandom.
SECRET LOVER by Tokiya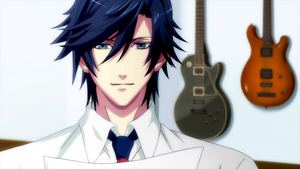 Fans of Mamoru Miyano will be very happy to hear that his idol songs as Tokiya has finally given him an outlet to try a brand new genre and this time round, it's none other than jazz! Like Suzumura, Miyano uses his lower register for the larger part of it and it is indeed very swoon-worthy. Energetic and vocally challenging, the song itself also makes for an excellent dance number! Not to mention, Miyano's high notes and ad-libs are just stunning and seductive! (Although all these ad-lib opportunities that Miyano and Taniyama got are making this author wish that Suzumura will one day have the chance to do ad-libs in his songs as well…) If there is one complaint about this song (and maybe the entire single in general), it's that the song felt too short! Maybe it's because Miyano's vocals were so good, this author just wanted to hear more. Overall, this song may be on par with INDEPENDENCE, another one of Tokiya's character songs. The song itself would make for an unforgettable concert piece as well, what with the possible choreography that comes with it (and Miyano himself is a wonderful dancer) and the sheer power of his vocals live!
OVERALL VERDICT: This is undoubtedly, the strongest Cross Unit Idol Song single released so far. Yes, it did have an unfair advantage to begin with as it is helmed by two of STARISH's best singers but with very strong solo songs and a solid leading track, it was inevitable that this would emerge as the best in this author's opinion. On the vocal side, both Miyano and Suzumura prove their prowess, maximising their ethereal yet strong voices' potential to give life to a magical piece. However, some may point out that Masato's solo song did not give Suzumura much room to stretch his vocal capabilities and was relatively weaker compared to his other Idol Songs. Nonetheless, if one can look past that and still appreciate Seien Brave Heart, this Cross Unit Idol Song CD is still a very solid release.
OVERALL SERIES VERDICT: So maybe the Cross Unit Idol Songs took its time to grow with some of the units having a total mismatch in vocals and weaker solo songs. However, this series of Idol Songs definitely ended with a bang with ORIGINAL RESONANCE which possessed a strong leading track and even solid solo pieces of the princes. Vocal wise, it is rather evident that some of the voice actors had problems catching up with the stronger vocalists (one of the reasons why ORIGINAL RESONANCE worked was because there wasn't such a huge disparity in singing skill) but you can tell that the voice actors had a lot of fun experimenting with their solo songs. Will the annual UtaPri concert in January next year change our perceptions of the songs? Who knows. We will wait and see.
All images are copyrighted to Broccoli and A-1 Pictures. Screencaps were taken from the Uta no Prince-sama Wiki and by the author for some pictures. 
~Astrid